---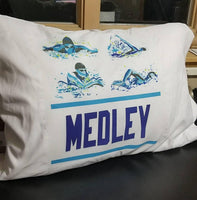 MEDLEY swim pillow case (twin size)
Super soft fabric, image infused for a permanent, smooth finish.
Choose one of the colors in the drop down box or have us color match your swim logo.
Makes the perfect Christmas gift for the swimmer in your life. Represent their favorite swim stroke.
Includes ONLY the case, 
DOES NOT include a pillow.